AHEAD OF ITS LAUNCH to the public on 1 February 2013, The View From The Shard has opened its doors for a series of press previews, including a visit from LondonNet.
The Shard, at 310 metres is the not only the tallest building in London, it's the tallest tower in Western Europe too. It is set to be home to a mixed use of office, residential and retail use as it opens up in the coming months. But for most Londoners and visitors to the capital the exciting bit has been the prospect of the public viewing galleries on the upper stories of the tower at Levels 68 to 72.

The Shard's architect Renzo Piano insisted on public access from the outset of the design.
"London is a city of inspiration and imagination. When we designed The Shard, a viewing gallery was part of our thinking right from the start" said Piano.
"We wanted to create a public space where people could visit the building to experience London in a different way and also feel that they have discovered the spirit of the building."
Unlike other enclosed viewing galleries, The View From The Shard offers visitors a chance to taste to the open air too.
"Level 72 is a wonderful example of this" explains Piano "In the open air on the highest habitable floor, you are surrounded by the shards of glass as well as the sights, sounds, elements and atmosphere of the city below. On top of the city, but also within it."
More:
The View From The Shard – Review by LondonNet's Peter Clee
The View From The Shard – Tickets
News stories about The View From The Shard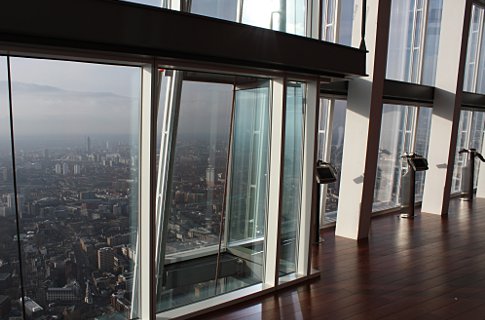 Photos (from top of page):
– View of The Shard (Copyright of The View from The Shard)
– Looking up to the sky from the open-air viewing gallery on Level 72 of The View From The Shard (Photo by Peter Clee, Copyright of LondonNet Ltd)
– The main viewing gallery on Level 69 of The View From The Shard. (Photo by Peter Clee, Copyright of LondonNet Ltd)