Blockbuster Of The Week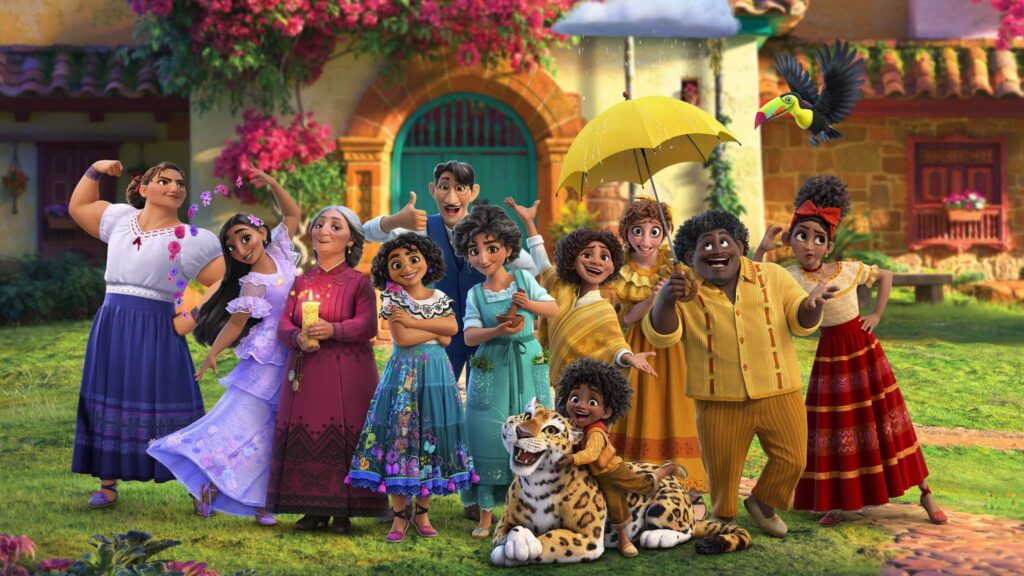 Luisa (voiced by Jessica Darrow), Isabela (Diane Guererro), Abuela Alma (Maria Cecilia Botero), Mirabel (Stephanie Beatriz), Agustin (Wilmer Valderrama), Julieta (Angie Cepeda), Camilo (Rhenzy Feliz), Antonio (Ravi Cabot-Conyers), Pepa (Carolina Gaitan), Felix (Mauro Castillo) and Dolores (Adassa Candiani) in Encanto, directed by Byron Howard, Jared Bush and Charise Castro Smith. Copyright: 2021 Disney. All Rights Reserved.
A mountain town in Colombia is home to successive generations of the Madrigal family. Every member of the clan is blessed with special powers like Bruno, who can glimpse the future, and Luisa, who has superhuman strength. Every Madrigal is outwardly gifted except for Mirabel, whose compassion for others is boundless. When the family's magical home comes under threat from a dark force, Mirabel holds the key to protecting her loved ones and their dreamy existence.
Find Encanto in the cinemas
Drama of the Week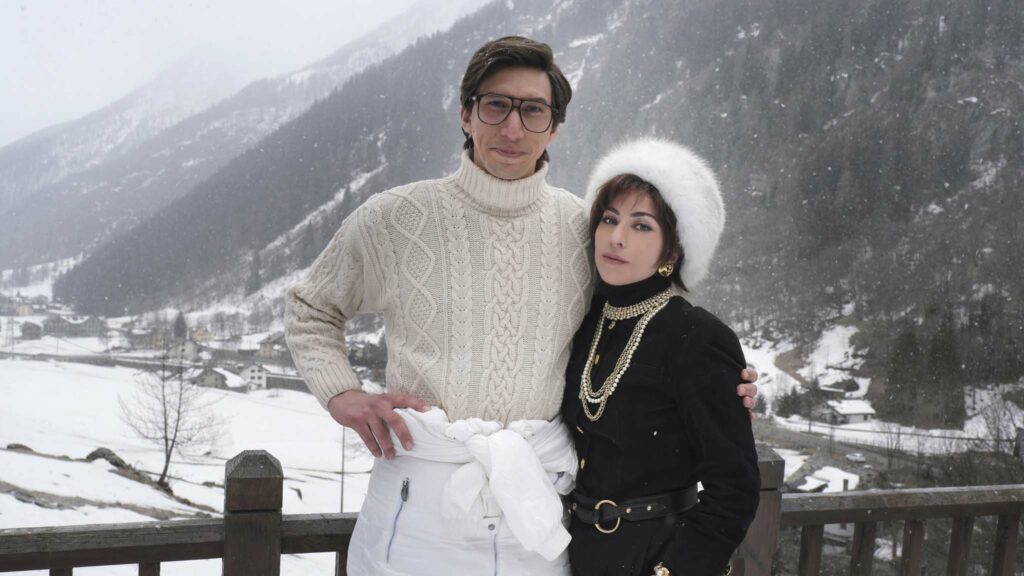 Adam Driver as Maurizio Gucci and Lady Gaga as Patrizia Reggiani in House Of Gucci, directed by Ridley Scott. Photo: Fabio Lovino. Copyright: 2021 Metro-Goldwyn-Mayer Pictures Inc. All Rights Reserved.
Patrizia Reggiani is working at her father's haulage firm when she meets Maurizio Gucci, grandson of Guccio Gucci, at a party. Infatuation piqued by the famous surname, Patrizia stalks Maurizio and worms her way into his affections to secure a seat at the dynastic table headed by Maurizio's disapproving father Rodolfo and uncle Aldo. To wield greater influence, Patrizia marries Maurizio and encourages him to "take out the trash" at boardroom level so they can acquire a majority stake.
Find House Of Gucci in the cinemas
Critic's Choice Of The Week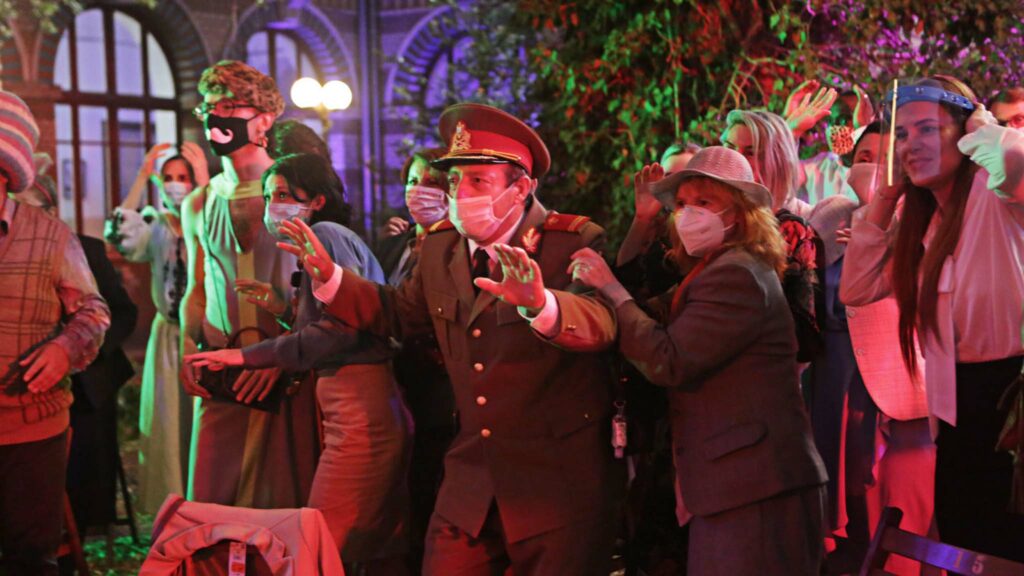 Bad Luck Banging Or Loony Porn directed by Radu Jude. Copyright: Sovereign Film Distribution. All Rights Reserved.
Secondary school teacher Emi Cilibiu makes a sex tape with her husband in the privacy of their home. The footage subsequently appears on the internet without her consent and Emi's reputation as a hard-working pillar of the community is called into question. She is summoned to a meeting to decide whether she is fit to mould impressionable young minds. As the hearing draws near, Emi grows increasingly paranoid about the reactions of strangers in the street.
Find Bad Luck Banging Or Loony Porn in the cinemas
Also Released This Week...
Farmer's son Rahuliya watches his family and friends struggle to exist in his village. He embarks on a quest to become a powerful figure in the criminal underworld. As he rises up through the ranks, Rahuliya meets his match in dedicated police officer Inspector Rajveer Singh.
Find Antim: The Final Truth in the cinemas
---
Kathleen Marshall directs Sutton Foster and Olivier Award winner Robert Lindsay in a seaworthy romantic musical with a book by Guy Bolton and PG Wodehouse and music and lyrics by Cole Porter, filmed live on the stage of the Barbican Theatre in London. Felicity Kendal and Gary Wilmot co-star.
Find Anything Goes in the cinemas
---
Woodcutter Joel abandons his son Nikolas to join an expedition led by Anders the huntsman to the fabled land of elves. A chance discovery of a map to Elfhelm sewn into the lining of a red hat propels Nikolas and his pet mouse Miika on an epic odyssey in search of hope and wonder.
Find A Boy Called Christmas in the cinemas
---
Shot over the course of five years, this documentary shines a light on domestic violence in Turkey where more than one in three women are victims of abuse and rates of femicide are rising. Courageous lawyer Ipek Bozkurt represents two survivors.
Find Dying To Divorce in the cinemas
---
In summer 2020, the Royal Academy Of Arts in London staged a major exhibition of impressionist paintings collected by Wilhelm Hansen. This documentary goes behind the scenes of the show and shares the history of businessman Wilhelm and his collection housed on the outskirts of Copenhagen.
Find Exhibition On Screen: The Danish Collector - Delacroix To Gauguin in the cinemas
---
Eighteen-year-old Cappo has been studying in Hull while his London-based best mates Two Tonne and Kidda excitedly promote their group The Ice Cold Crew (The ICC) on pirate radio. Cappo returns home and joins his pals on a hunt for tickets to an epic New Year's Eve party.
Find Pirates in the cinemas
---
In the 1980s, a group of women met at Greenham Common peace camp to publicly protest against nuclear weapons at the nearby RAF base. This documentary combines archive footage, animation and in-person interviews to relive a heady period when strangers became a chosen family.
Find Rebel Dykes in the cinemas
---
Grieving widower Eric Black responds to a job advertisement for a shepherd on a remote west coast island tending to more than 600 sheep. Bed and board in a ramshackle cottage are included. When Eric's dog Baxter goes missing, his sanity slowly unravels.
Find Shepherd in the cinemas
---
George Mallory and his climbing partner Andrew Irvine disappeared in 1924 during an ascent of Everest. Several decades later, Japanese reporter Makoto Fukamachi becomes convinced that enigmatic mountaineer Habu Joji is in possession of the camera that Mallory took to the summit.
Find The Summit Of The Gods in the cinemas
---
Convict Ruth Slater is released back into society after serving a long sentence for a violent crime. She reluctantly returns home to track down her younger sister Katie, who she was forced to leave behind. Back in the place where her life whirled out of control, Ruth encounters anger.
Find The Unforgivable in the cinemas
---