Blockbuster Of The Week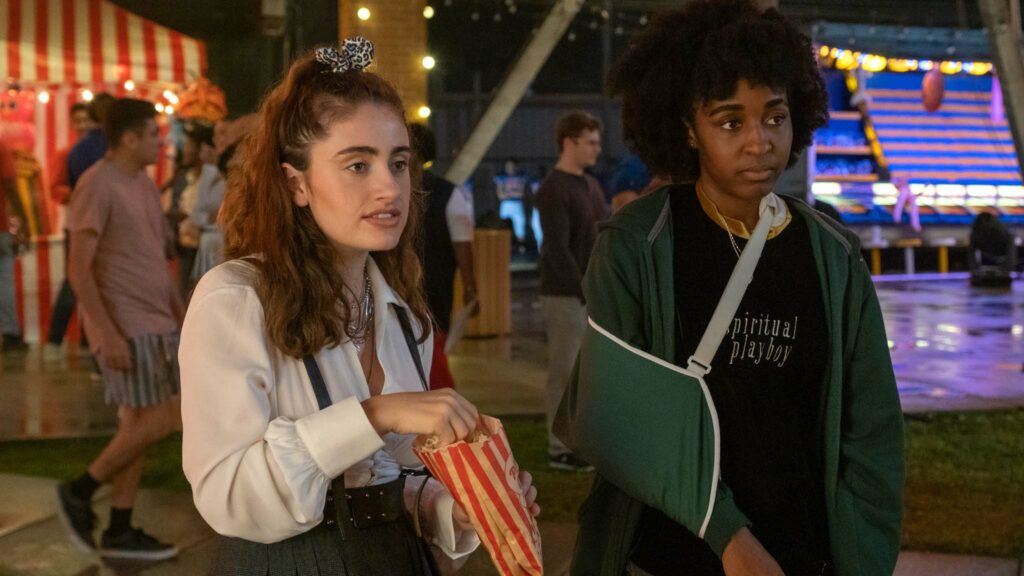 Rachel Sennott as PJ and Ayo Edebiri as Josie in Bottoms, directed by Emma Seligman. Photo: Patti Perret. Copyright: Orion Releasing LLC. All Rights Reserved.
Best friends PJ and Josie are social outcasts at Rockbridge Falls High School because they embody the holy trifecta of misfitdom: "gay, untalented and ugly/" When rumours circulate that PJ and Josie spent the summer in a juvenile detention centre, the best friends capitalise on this undeserved fame by establishing a self-defence class for girls with the backing of teacher Mr G. Lessons morph into fight club brawls and PJ and Josie gravitate closer to their respective crushes.
Find Bottoms in the cinemas
Thriller Of The Week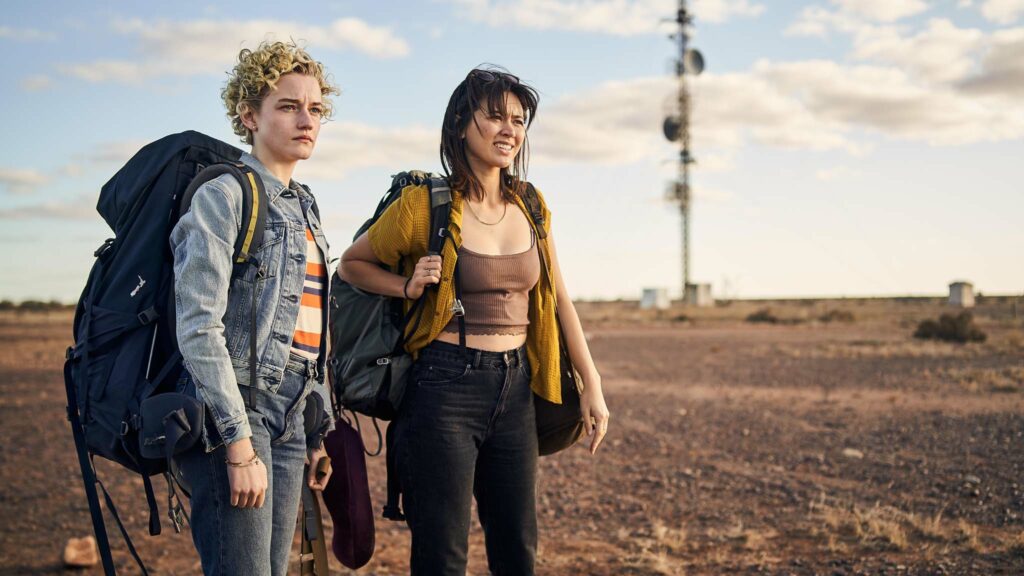 Julia Garner as Hanna and Jessica Henwick as Liv in The Royal Hotel, directed by Kitty Green. Copyright: See Saw Films/Universal Studios. All Rights Reserved.
Best friends Hanna and Liv run out of money in Sydney as they backpack around Australia. The cash-strapped 20-somethings seek temporary employment to pay for the rest of the trip and are dispatched to a remote mining town to work at The Royal Hotel run by Billy and on-off partner Carol. Hanna and Liv weather a barrage of sexist and racist patter from beer-chugging patrons. The young women bite their tongues, determined to enough money to move on by earning tips from locals.
Find The Royal Hotel in the cinemas
Critic's Choice Of The Week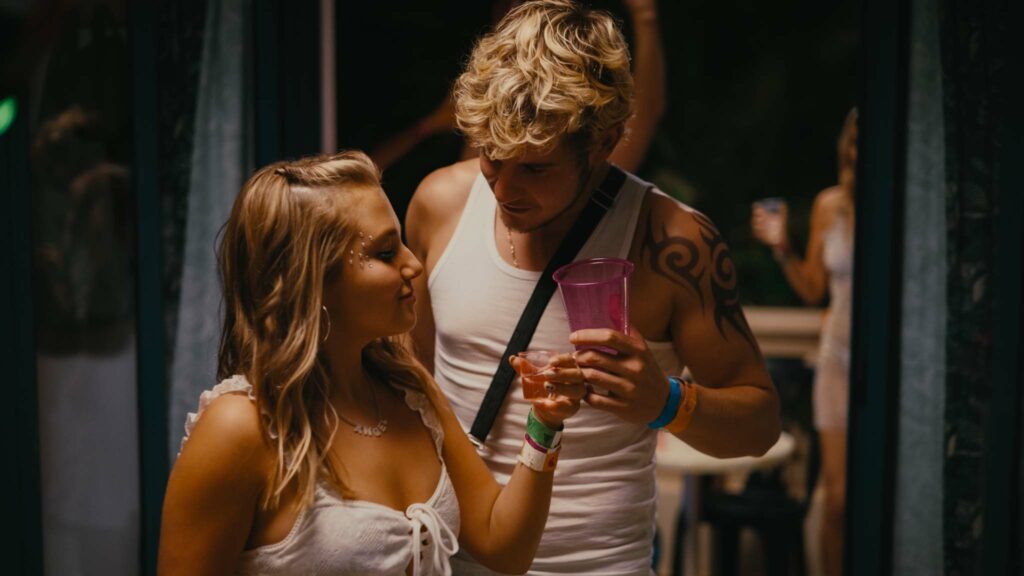 Mia McKenna-Bruce as Tara and Shaun Thomas as Badger in How To Have Sex, directed by Molly Manning Walker. Copyright: MUBI. All Rights Reserved.
Teenage friends Em, Skye and Tara are determined to let off steam after their exams by partying to excess in the town of Malia in Crete. Booze and sex are key components of this sun-drenched odyssey but for shy and reserved Tara, the break will also be a rite of passage because she is still a virgin. Badger and his friends are staying in the neighbouring apartment to the girls and he clearly indicates an interest in Tara, only to languish in the friend zone.
Find How To Have Sex in the cinemas
Also Released This Week...
In 1969 Stockholm, Irish playwright Samuel Beckett is due to receive the Nobel Prize for Literature at a ceremony attended by his wife Suzanne and dignitaries. As he ascends the stage to accept the coveted honour, Beckett sparks a conversation with himself.
Find Dance First in the cinemas
---
Former teacher Anna works at a love institute founded by scientific trailblazer Duncan, who claims to have invented a controversial technology that can confirm romantic compatibility. In the course of her duties, Anna sparks a deep friendship with sweet and sensitive co-worker Amir.
Find Fingernails in the cinemas
---
Middle-aged farmhand Phil is tightly bound to the close-knit island community that he now calls home. Following a stroke, Phil suffers from amnesia and local woman Millie offers unstinting support, claiming that she and Phil were in a secret romance before the medical trauma.
Find Nobody Has To Know in the cinemas
---
A documentary about the tireless work of the Centre de jour l'Adamant, which floats on the River Seine at the foot of the Charles de Gaulle Bridge in Paris. This unique facility welcomes adults with mental disorders from the city's first four arrondissements.
Find On The Adamant in the cinemas
---
Singer-songwriter Pete Doherty relives the descent into hell in his own words in a feature-length documentary shot over the course of 10 years by his partner, Katia deVidas, which includes real scenes of drug misuse.
Find Peter Doherty: Stranger In My Own Skin in the cinemas
---
A 4K restoration of director Horace Ove's ground-breaking 1976 drama about the experiences of second generation immigrants in London, glimpsed through the eyes of the British son of Trinidadian parents, who is denied the opportunity to work.
Find Pressure in the cinemas
---
A live broadcast of Carlos Acosta's romantic ballet in three acts based on the novel of the same name by Miguel de Cervantes, performed on the stage of the Royal Opera House in London under the baton of conductor Valery Ovsyanikov. Set to Ludwig Minkus's score, which is performed by on-stage musicians.
Find Royal Ballet Live: Don Quixote in the cinemas
---
Biographical drama about inspirational gay civil rights activist Bayard Rustin, who weathered a storm of racism and homophobia to spearhead the planning and mobilisation of the 1963 March on Washington for Jobs and Freedom.
Find Rustin in the cinemas
---
Mild-mannered undertaker Arthur Morel is looking forward to retirement but he remains dedicated to treating the recently deceased with respect. He agrees to help local gangster Finlay Unsworth bury an increased volume of bodies in exchange for money in his pocket.
Find The Undertaker in the cinemas
---
A documentary portrait of British glam rock band The Darkness comprising Justin Hawkins, Dan Hawkins, Frankie Poullain and Rufus Tiger Taylor, considering the chain of events which led to the group breaking up in the mid-noughties and the subsequent reunion in 2011.
Find Welcome To The Darkness in the cinemas
---