The Hunt (15)
Cast: Ethan Suplee, Emma Roberts, Betty Gilpin, Hilary Swank, Justin Hartley
Genre: Horror
Author(s): Nick Cuse, Damon Lindelof
Director: Craig Zobel
Release Date: 11/03/2020
Running Time: 90mins
Country: US
Year: 2020



Twelve strangers regain consciousness in a clearing with no short-term memory. They are clueless as to their location and quickly surmise that they have been hand-picked as targets in a diabolical game organised by the wealthy and privileged, who hunt humans for sport. One of the 12 victims, Crystal, refuses to accept her grim fate. She retaliates with force and guile against her aggressors, focusing her attention on the manor house where hunters gather ahead of the bloodbath.
---
LondonNet Film Review
The Hunt (15)
Hunters become prey in a satirical social thriller directed by Craig Zobel, which takes aim at preconceptions on both sides of the political and class divide in present-day America. Loosely inspired by Richard Connell's 1924 short story The Most Dangerous Game, The Hunt was originally scheduled for release in summer 2019. Real-life shootings on consecutive days in El Paso and Dayton followed by a loaded tweet from US President Donald Trump shrouded the picture in a cloak of notoriety, which film-makers hope, six months later, might translate into box office takings…

Anchored by eye-catching performances from Betty Gilpin and two-time Oscar-winner Hilary Swank, Zobel's intentionally overblown showdown between working-class "deplorables" and wealthy "liberal elites" doesn't stint on the stomach-churning splatter. A bloodied eyeball, still attached to the optic nerve, is wrenched from an eye socket by a stiletto heel and grenades blow cast members limb from limb. Screenwriters Nick Cuse and Damon Lindelof poke fun at broadly defined characters, chastising one "redneck" who assumes the worst about a family of illegal immigrants with the same venom as they deride public displays of political correctness from the "elites".
Twelve strangers regain consciousness, gags padlocked to their mouths to stifle cries for help. The discombobulated dozen includes car rental company employee Crystal (Gilpin) and podcast conspiracy theorist Gary (Ethan Suplee). The motley crew have been drugged and kidnapped in different states then transplanted to a forest clearing, supposedly in Arkansas. When rifle shots ring out and a head explodes, the stricken strangers realise the wicked whispers online must be true. They are being hunted for sickening sport by well-to-do Athena (Swank), Liberty (Teri Wyble), Martin (Dean J West), Peter (Vince Pisani) and Richard (Glenn Howerton).
While some of the doomed dozen blunder into traps laid by ringleader Athena and her cohorts, Crystal demonstrates surprising tactical nous as she retaliates against her attackers. The blood-soaked battle royale shifts to a remote manor house where hunters gather with an overpriced bottle of champagne nestled on ice to toast an end to the carefully orchestrated slaughter.
It's easy to see how The Hunt could be dismissed as an egregious assault on red and blue states but Zobel's picture is too wildly over the top and absurd to be consumed with brow-beating seriousness. One potential victim escapes from a spike pit only to be flung back into the same hole by an incendiary device, a hunter is distracted because film-maker Ava DuVernay liked his social media post, while another screeches "climate change is real" as a target takes their final gasp of poisoned air. Zobel booby-traps the moral high ground with trip wires and mines then stands back as severed body parts wheel through the air.
– Sarah Lee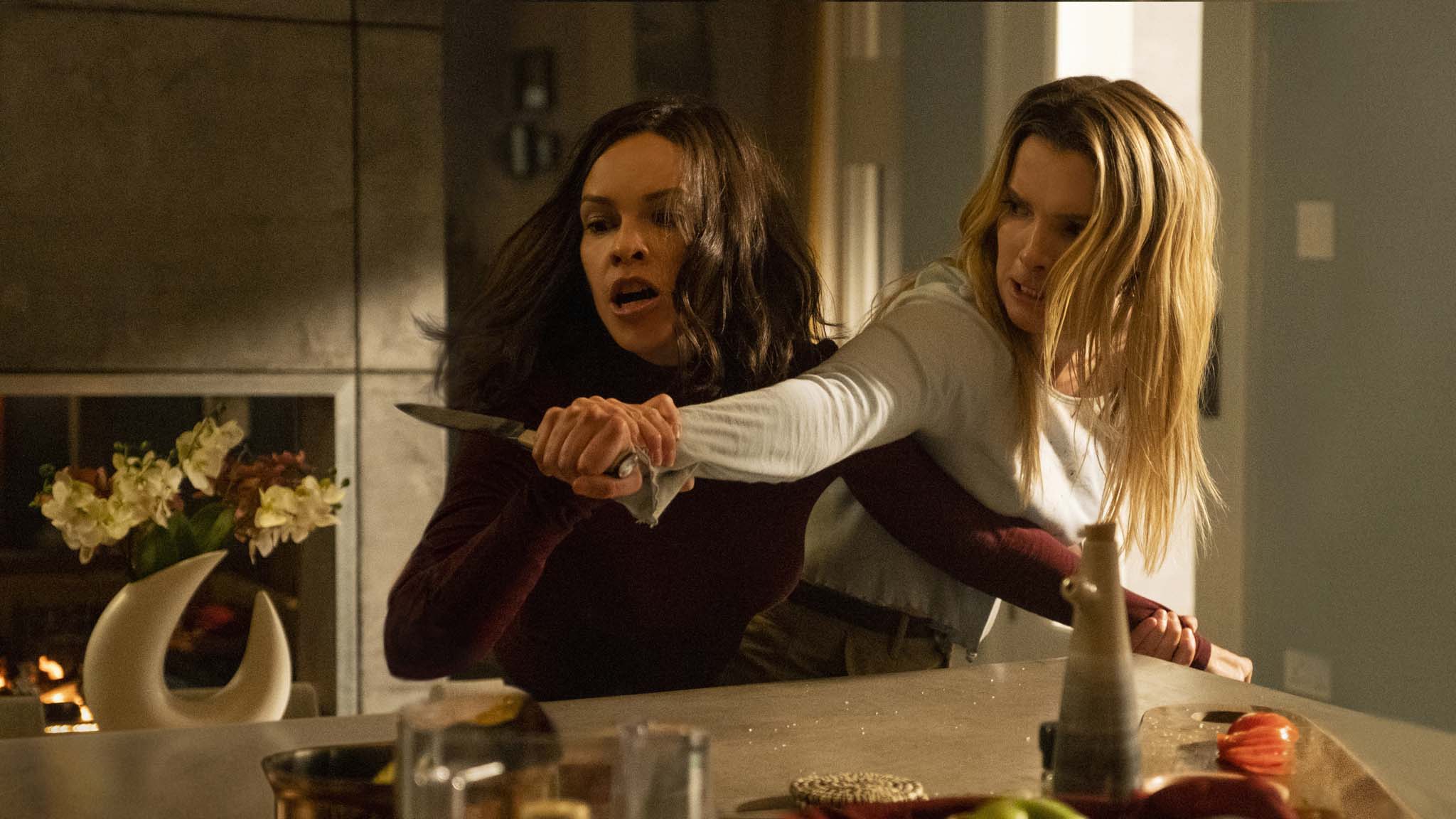 ---
London Cinemas Showing The Hunt
---
From: Friday 15th January
To: Thursday 28th January
No cinema infomation at the moment
From: Friday 29th January
To: Thursday 4th February
No cinema infomation at the moment
UK and Irish Cinemas Showing The Hunt
---
From: Friday 15th January
To: Thursday 28th January
No cinema infomation at the moment
From: Friday 29th January
To: Thursday 4th February
No cinema infomation at the moment