The Grudge (15)
Cast: Tara Westwood, Junko Bailey, David Lawrence Brown, Demian Bichir, Lin Shaye, Andrea Riseborough
Genre: Horror
Author(s): Nicolas Pesce
Director: Nicolas Pesce
Release Date: 24/01/2020
Running Time: 94mins
Country: US/Can
Year: 2020



Detective Muldoon moves to a small town in Pennsylvania with her son Burke following the death of her husband from cancer. The officer attends the scene of a dead body in the woods with colleague Detective Goodman. He shares suspicions about a curse on a local property 44 Reyburn Drive, where the deceased was working with owners Faith and William Matheson. In flashback, two other families fall victim to a malevolent presence that infects and destroys without mercy.
---
LondonNet Film Review
The Grudge (15)
Ghoulish history repeats in The Grudge, a lacklustre reboot of the horror franchise spawned by the 2003 Japanese film Ju-on about a vengeful spirit, which attaches itself to unsuspecting victims and untethers their sanity. Writer-director Nicolas Pesce demonstrated a sadistic streak with his last film, Piercing, a macabre battle of the sexes starring Mia Wasikowska and Christopher Abbott. Here, he resorts to hoary horror tropes to stitch together four stories of hellish haunting centred on the same Pennsylvania house. His patchwork of predictable shocks squanders a terrific ensemble cast including Newcastle-upon-Tyne actress Andrea Riseborough, Demian Bichir, John Cho and Australian two-time Oscar nominee Jacki Weaver…

They scream, squeal and shudder on cue, foolishly hiding in a closet in one case when any horror movie fan will tell you that's the last place to seek refuge if you intend to survive to the end credits. Composers Andy Grush and Taylor Newton Stewart, aka The Newton Brothers, match aggression on screen with a creepy orchestral score, which prickles fear far more effectively than anything Pesce exorcises from the pages of his script.
Three months after the loss of her husband to cancer, grief-stricken police detective Muldoon (Riseborough) moves to Cross River, Pennsylvania with young son Burke (John J Hansen). She soothes her boy's fears – "Nothing bad's gonna happen to me, I promise" – as he settles into a new school and she acclimatises to her partner, Detective Goodman (Bichir). The cops attend a horrific scene in the woods, which is connected to a local property, 44 Reyburn Drive, which Goodman knows well.
In a bewildering mosaic of flashbacks, we encounter residents and visitors to the accursed house. In 2004, live-in nurse Fiona Landers (Tara Westwood) leaves Tokyo to travel home to husband Sam (David Lawrence Brown) and daughter Melinda (Zoe Fish) in Cross River. She brings with her a malevolent presence, which infects and corrupts without mercy. Estate agents Peter and Nina Spencer (Cho, Betty Gilpin), who are expecting their first child, attempt to sell the property. Once Peter steps across the threshold, he is doomed to destroy everything he holds dear. In 2005, despairing husband William Matheson (Frankie Faison) invites assisted death guide Lorna Moody (Weaver) to 44 Reyburn Drive to deliver final words of comfort to his wife Faith (Lin Shaye). Lorna has been "a compassionate presence at the bedside of 44 people" but she will soon wish she were dead.
The Grudge exhibits dramatic rigor mortis from its opening frames. Characters show casual regard for their safety, leaning over a bathtub filled with rancid water or wandering down hallways in the dark. Consequently, we're braced for any jump scares and a symphony of squelchy sound effects as poorly served cast are dispatched with maximum splatter.
– Jo Planter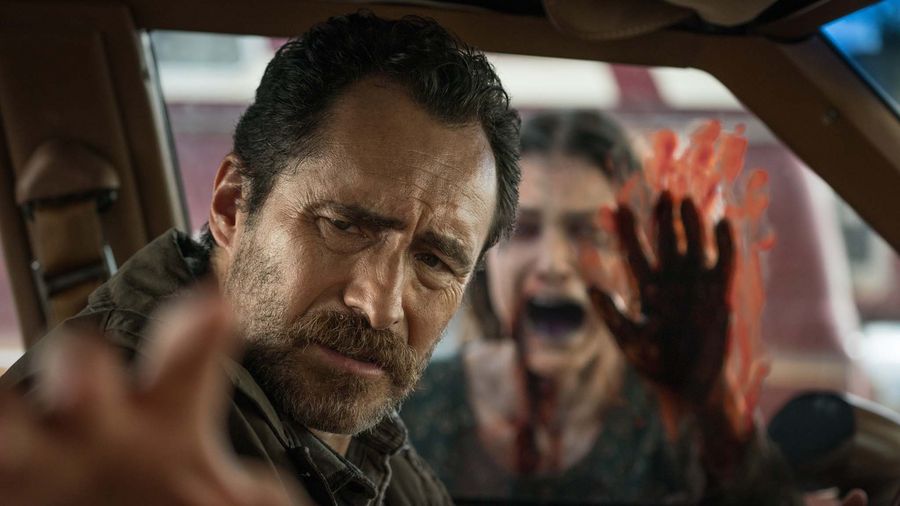 ---
London Cinemas Showing The Grudge
---
From: Friday 7th May
To: Thursday 13th May
From: Friday 14th May
To: Thursday 20th May
No cinema infomation at the moment
UK and Irish Cinemas Showing The Grudge
---
From: Friday 7th May
To: Thursday 13th May
From: Friday 14th May
To: Thursday 20th May
No cinema infomation at the moment