The Gentlemen (18)
Cast: Matthew McConaughey, Michelle Dockery, Charlie Hunnam, Henry Golding, Jeremy Strong, Colin Farrell, Hugh Grant
Genre: Thriller
Author(s): Guy Ritchie
Director: Guy Ritchie
Release Date: 01/01/2020
Running Time: 113mins
Country: US
Year: 2020



American ex-pat Mickey Pearson has steadily built a lucrative marijuana empire in London aided by his right-hand man Raymond. Mickey is poised to sell the business to slippery American counterpart, Matthew Berger, and share the spoils with his straight-shooting wife, Rosalind. Myriad enemies and supposed allies attempt to take advantage, including ruthless kingpin Dry Eye and opportunistic private detective Fletcher.
---
LondonNet Film Review
The Gentlemen (18)
After the quick-stepping theatricality of a live-action Aladdin replete with Will Smith's motion-captured genie, Guy Ritchie returns to the crime-riddled streets of London and filmmaking home comforts. The dodgy geezers and expletive-laden double-dealing of Lock, Stock And Two Smoking Barrels, which saddled the writer-director as a one-trick pony more than 20 years ago, are enthusiastically rehashed and recycled in The Gentlemen. The budget of this slickly orchestrated caper is bigger than Ritchie's 1998 calling card, including a leading role for Oscar winner Matthew McConaughey, but the macho posturing, snappy dialogue and stylistic quirks are disappointingly familiar including a point-of-view shot from inside a car boot…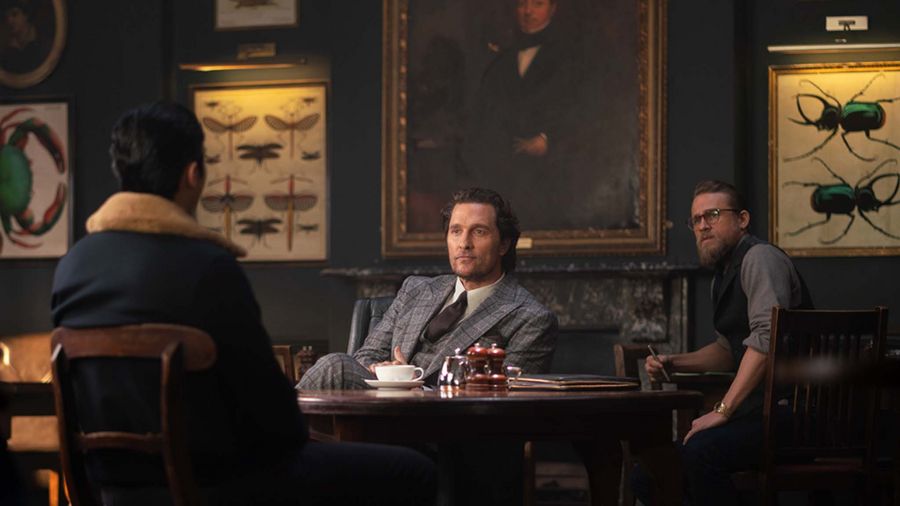 The film opens with McConaughey's dapper protagonist striding into a pub and politely demanding "a pint and a pickled egg," which cajoles the barman to pour a beer from a pump shamelessly adorned with the logo of the Gritchie Brewing Company. Blood starts flowing before the vinegar-saturated bar snack has been consumed and a motley crew of misguided characters have started a lively game of dialogue pass the parcel, tossing profanities back and forth as nouns, verbs and adverbs because swearing is big, clever and achingly cool.
Ritchie uses a simple framing device. He feeds us morsels of his predictable story in fragmented flashbacks, as told by an odious private detective named Fletcher (Hugh Grant), who wants a hefty £20 million pay-off for incriminating photographs and documentation of Mickey Pearson (McConaughey). The American ex-pat has built a lucrative marijuana empire in the capital aided by right-hand man Raymond (Charlie Hunnam). Mickey is poised to sell the business to slippery American counterpart, Matthew Berger (Jeremy Strong), and share the spoils with his straight-shooting wife, Rosalind (Michelle Dockery). Unfortunately, trigger-happy rival Dry Eye (Henry Golding) intends to scupper the deal, lighting a fuse on a bloodthirsty turf war that will make lip-smacking headlines for sleazy tabloid Daily Print edited by Big Dave (Eddie Marsan). Adding fuel to the fire, rap-loving protegees of a local boxing coach (Colin Farrell) unwittingly steal from one of Mickey's farms and record their hare-brained antics on their YouTube channel.
The Gentlemen swaggers and growls in ways we have come to expect from Ritchie. Kinks in a predictable plot are clearly telegraphed through self-consciously quickfire dialogue. Some of the cast are poorly served by the script but McConaughey's natural charisma elevates his self-anointed "king of the jungle" and Grant enlivens scenes with impeccable comic timing. Only one potty-mouthed outburst lands a decent laugh – a pithy aside gifted to Downton Abbey star Dockery, who reverts to her native Essex accent to play a ballsy spouse, whose words are almost as sharp as her designer heels. Tellingly, she has to rely on a man to get her out of a potentially lethal jam. Time's Up, The Gentlemen, please.
– Jo Planter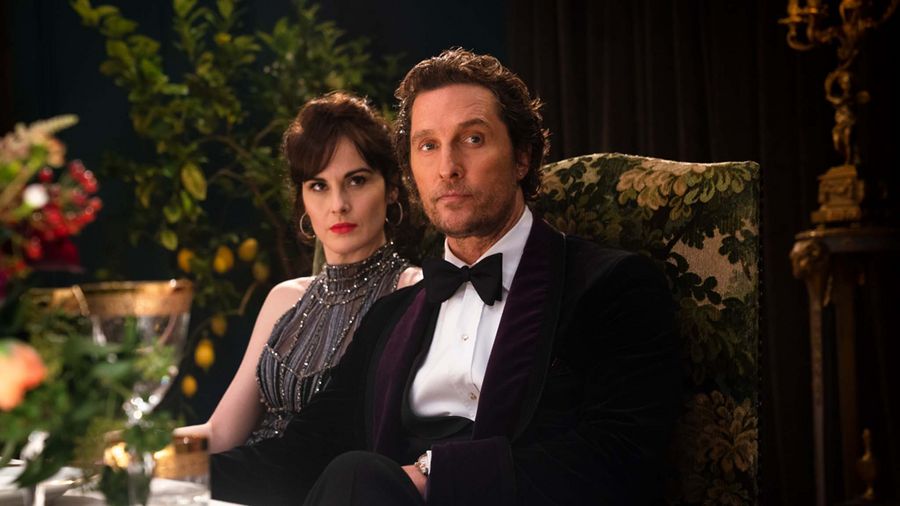 ---
London Cinemas Showing The Gentlemen
---
From: Friday 9th April
To: Thursday 15th April
No cinema infomation at the moment
From: Friday 16th April
To: Thursday 22nd April
No cinema infomation at the moment
UK and Irish Cinemas Showing The Gentlemen
---
From: Friday 9th April
To: Thursday 15th April
No cinema infomation at the moment
From: Friday 16th April
To: Thursday 22nd April
No cinema infomation at the moment