Dora And The Lost City Of Gold (PG)
Cast: Isabela Moner, Madeleine Madden, Jeff Wahlberg, Nicholas Coombe, Eva Longoria, Michael Pena
Genre: Action
Author(s): Matthew Robinson, Nicholas Stoller
Director: James Bobin
Release Date: 16/08/2019
Running Time: 102mins
Country: Australia/US
Year: 2019



Dora is sent to live with her cousin Diego in Los Angeles while her explorer parents Cole and Elena search for the lost city of Parapata in Peru. When Cole and Elena vanish without trace, Dora is unwittingly dragged on her own action-packed adventure accompanied by Diego and misfit high school classmates Sammy and Randy. Far from home, the teenagers find strength and camaraderie beneath the stars.
---
LondonNet Film Review
Dora And The Lost City Of Gold (PG)
Educational cartoon series Dora The Explorer, which teaches preschoolers basic Spanish through repetition, is reimagined as a rollicking live-action adventure a la Raiders Of The Lost Ark by director James Bobin and scriptwriters Matthew Robinson and Nicholas Stoller. By turns funny, charming, puerile and knowing, Dora And The Lost City Of Gold is a hugely entertaining romp that caters to all ages, including little ones familiar with the TV version and its irrepressible heroine, who repeatedly breaks the fourth wall to talk directly to viewers…

This curious habit of addressing the camera is played for laughs in Bobin's breathlessly paced film. "Can you say delicioso?" Dora urges us over the breakfast table in an early scene. "She'll grow out of it," her confused father tells himself. Of course, she doesn't. Isabela Moner brings a winning combination of bright-eyed optimism and steely resolve to her incarnation of the title character, who merrily introduces herself during a stampede of pygmy elephants. In an irreverent nod to its small-screen predecessor, the film reverts to hand-drawn animation (replete with a talking backpack) after the characters experience a close encounter with hallucinogenic plant spores. Blue monkey sidekick Boots and light-fingered fox Swiper (voiced by Benicio del Toro) are recreated using digital trickery, which opts for cuteness rather than photorealism.
Dora (Moner) is raised in the jungle by archaeologist parents Cole (Michael Pena) and Elena (Eva Longoria). They are poised to embark on a perilous expedition to locate the lost Peruvian civilisation of Parapata, which ancient texts describe as the hiding place of more gold than the rest of the world combined. Dora hopes to join her folks but Elena calmly counsels her daughter: "You have the whole world to explore. Go see it, make friends." Consequently, Dora flies to Los Angeles to stay with her cousin Diego (Jeff Wahlberg), where the concrete jungle's greatest challenge is navigating the warring tribes of the local high school. Soon after, Cole and Elena vanish without trace and Dora becomes the unwitting heroine of her own hare-brained adventure, accompanied by Diego and misfit classmates Sammy (Madeleine Madden) and Randy (Nicholas Coombe). "The jungle is perfectly safe," Dora assures her inexperienced pals, "just don't touch anything".
Dora And The Lost City Of Gold is full of hidden treasures including tongue-in-cheek performances from a culturally diverse cast, gently simmering romance and toilet humour including a jaunty song about digging a poo hole in the wild. Moner illuminates every derivative frame of a story that affectionately plunders Indiana Jones, The Goonies, National Treasure and Tomb Raider for booby trap-laden thrills. Bobin makes light work of the 102-minute running time, maintaining a brisk tempo as he strives to please everyone. Unexpectedly, parents are likely to enjoy the rough and tumble more than their young wards. Laugh and learn.
– Jo Planter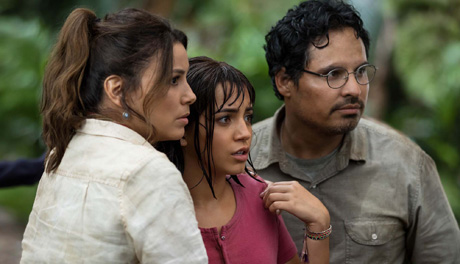 ---
London Cinemas Showing Dora And The Lost City Of Gold
---
From: Friday 17th September
To: Thursday 23rd September
No cinema infomation at the moment
From: Friday 24th September
To: Thursday 30th September
No cinema infomation at the moment
UK and Irish Cinemas Showing Dora And The Lost City Of Gold
---
From: Friday 17th September
To: Thursday 23rd September
No cinema infomation at the moment
From: Friday 24th September
To: Thursday 30th September
No cinema infomation at the moment