Action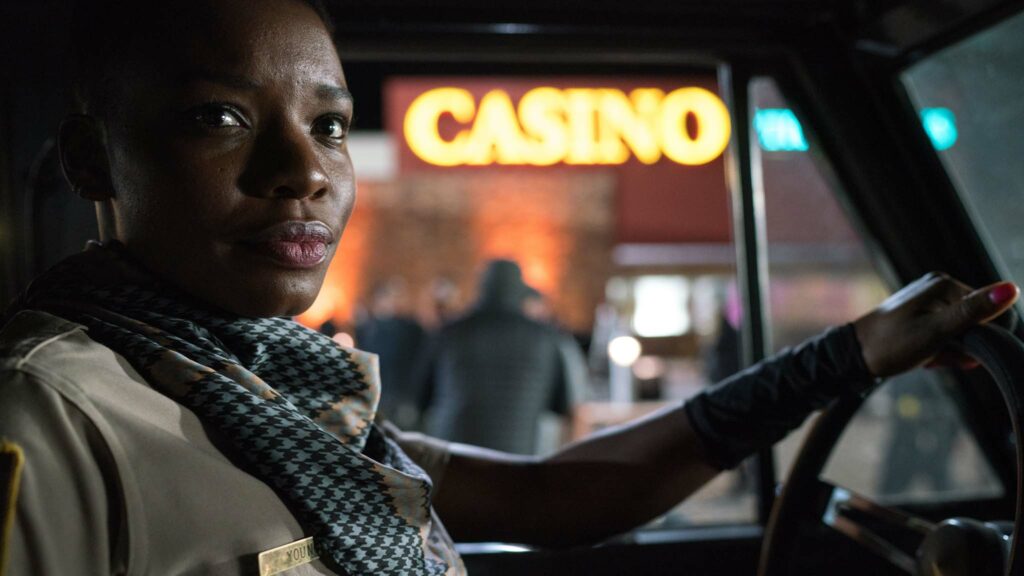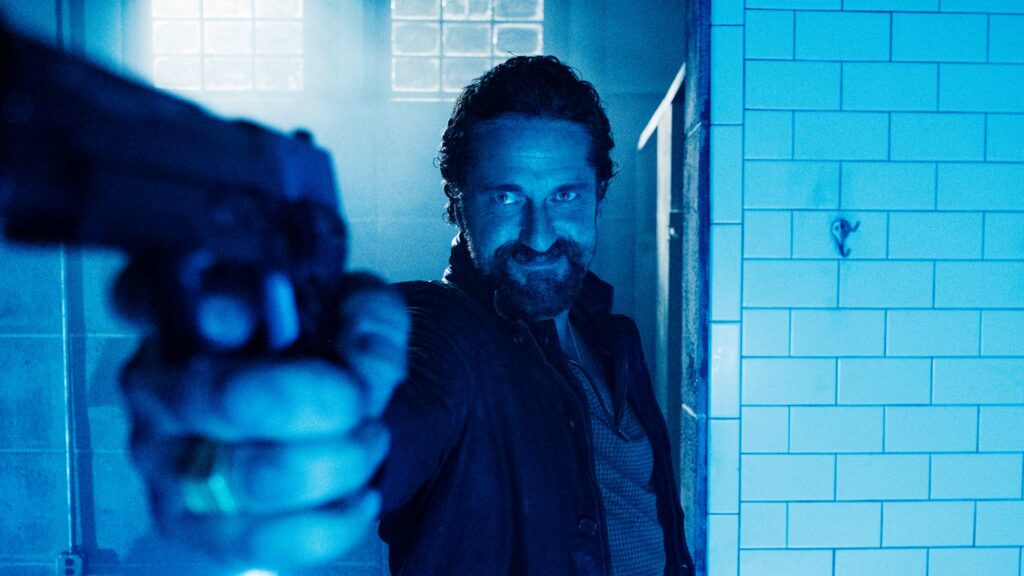 Review: The Seventies are back in fashion in director Joe Carnahan's testosterone-soaked tale of law and disorder. From its retro opening titles and funky soundtrack courtesy of composer Clinton Shorter, Copshop jives to a nostalgic beat not too far removed from the films of Quentin Tarantino, albeit without the Oscar winner's trademark deluges of razor-sharp dialogue. Blood flows freely from close-range bullet wounds and a DIY tracheotomy in this action-packed feminist western, which subverts gender stereotypes to pleasing effect with a gun-slinging black female cop caught in the crossfire between men of tattered moral fibre.
Alexis Louder is terrifically entertaining as the quick-thinking rookie, and the only woman at her station, who proudly follows the letter of the law even if it puts her at odds with her hot-headed sergeant and fellow officers. She holds her own against action movie stalwarts Gerard Butler and Frank Grillo (both listed as producers), who trade verbal and physical blows as a hit man and con artist respectively on a collision course in the sun-scorched Nevada desert. Carnahan stages prolonged shoot-outs with verve and obligatory slow-motion to fetishise the wilful destruction of property and people. Toby Huss snags the lion's share of humorous one-liners as a jabbering psychopath and rival assassin, who takes one disparaging look at his target's man bun and cackles, "You look like Tom Cruise in that samurai picture that nobody watched!"
Self-anointed "high-end consultant" Teddy Murretto (Grillo) has grubby fingers in numerous pies, including the affairs of the recently murdered attorney general of Nevada. On the run from professional hit man Bob Viddick (Butler) after a car bomb fails to silence his loose lips, Teddy hatches a hare-brained scheme to dodge an early grave in the desert. He sucker punches diligent Gun Creek police officer Valerie Young (Louder) during a public fracas to secure a holding cell at the station.
The plan backfires when Viddick poses as a drunk driver and is detained in the opposite cell. "I don't want you to think you can save yourself – because you can't," the hit man growls at his prey. A tense stand-off heralds a hail of bullets when rival shooter Anthony Lamb (Huss) arrives to kill Teddy. It's only a matter of time before Lamb breaches the holding cell's walls, forcing officer Young to contemplate a fragile alliance with Teddy and Viddick to defeat a common enemy.
Copshop is pulpy fiction that relies on wanton violence to divert attention from the occasional clunks of self-conscious dialogue in Carnahan and Kurt McLeod's script. Louder lives up to her surname, rising above a deafening symphony of gunfire, shattering glass and deathly screams to out-manoeuvre and outshine better known co-stars. The plot twists like a cornered rattlesnake in a frenetic final act that leaves a cell door ajar for a return trip to Gun Creek.
Find Copshop in the cinemas
Drama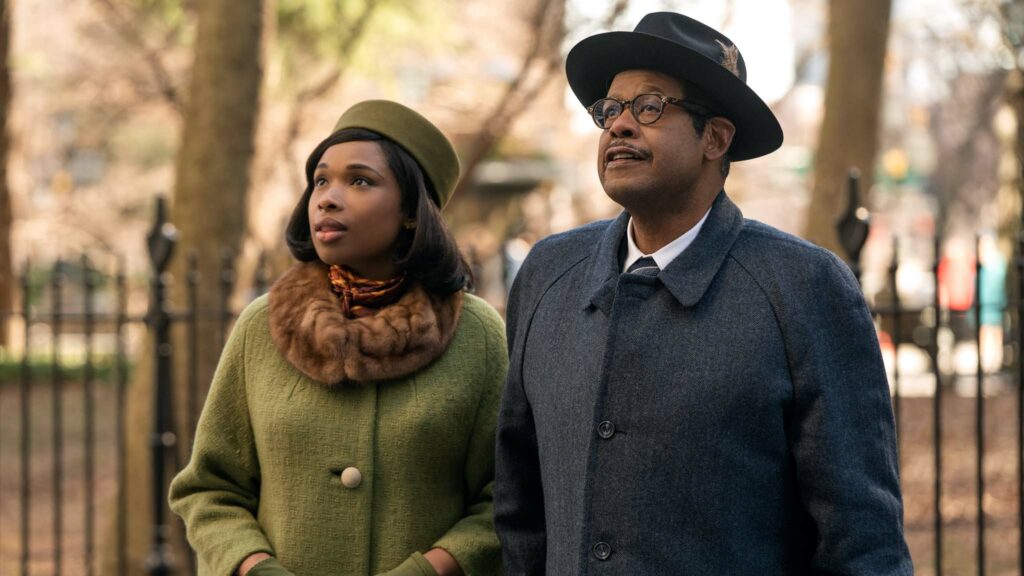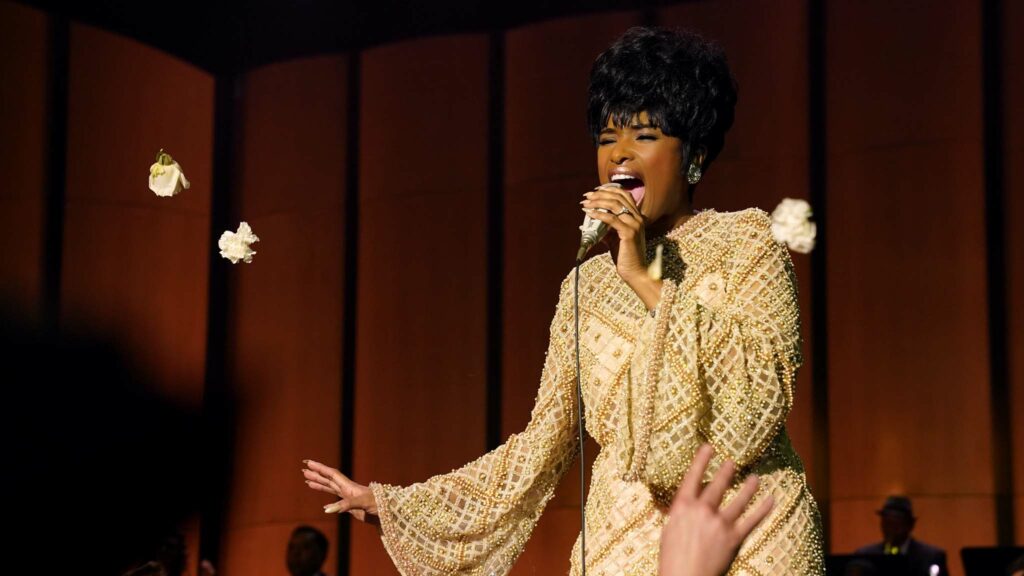 Review: When Jennifer Hudson made her feature film acting debut as Effie White in the 2006 musical Dreamgirls, the American Idol alumnus overshadowed Beyonce and deservedly won an Oscar as Best Supporting Actress. She still has the voice of an angel in director Liesl Tommy's overlong biopic of Aretha Franklin, covering a bewildering array of the queen of soul's hits including Chain Of Fools, I Never Loved A Man (The Way I Love You), I Say A Little Prayer, Natural Woman, Think and the empowering title anthem. If Respect were simply a concert film to showcase Hudson's mastery of her instrument, it would be a bona fide chart-topper.
Unfortunately, Tommy's picture requires meaty verses to support the rousing choruses and Tracey Scott Wilson's screenplay is more reverential than revelatory, following an achingly familiar narrative arc from abuse (sexual, domestic, alcohol) and manipulation to tear-stained emancipation. The script tends to Franklin's psychological wounds purely at surface level and doesn't spend enough time dissecting the scar tissue to manifest an unbreakable bond to the lead character. "Wait until your demons come back," violent husband Ted White (Marlon Wayans) seethes during one altercation. "After living with you, I'm ready for them," coolly retorts Aretha. So are we but Tommy's film repeatedly keeps the darkness at bay.
From an early age, formidable Baptist minister CL Franklin (Forest Whitaker) showcases the soaring vocals of third child Aretha to friends and family including singer Dinah Washington (Mary J Blige), creating tension with his estranged wife Barbara (Audra McDonald). "Your daddy doesn't own your voice. Nobody does… but God," the mother tenderly reminds Aretha. Barbara dies of a heart attack and Aretha relies on sisters Carolyn (Hailey Kilgore) and Erma (Saycon Sengbloh) and her grandmother (Kimberly Scott) for emotional ballast.
As Aretha's grief subsides, supplanted by devotion to her father's flock at New Bethel Baptist Church, CL takes a deep personal interest in his daughter's contract with Columbia Records. None of her singles are hits and smooth-talking ladies' man Ted White (Wayans) persuades Aretha to let him manage her career inside and out of the bedroom. CL is apoplectic ("You are going to beg me to take you back, but I won't!") as his daughter begins her turbulent yet fruitful journey at Atlantic Records under Jerry Wexler (Marc Maron).
Galvanised by Hudson's radiant performance, Respect wins what the title politely demands but unabashed adoration is harder to come by. Whitaker radiates righteous indignation but Wayans is an ill fit for a hot-headed brute, not that the script gives him a great deal to work with beyond a couple of fist-pounding outbursts. Musical sequences are orchestrated with aplomb including a 1968 Madison Square Gardens concert where Aretha preaches the title track to her congregation. "What you want, baby I got it," she trills. Not quite.
Find Respect in the cinemas