Thriller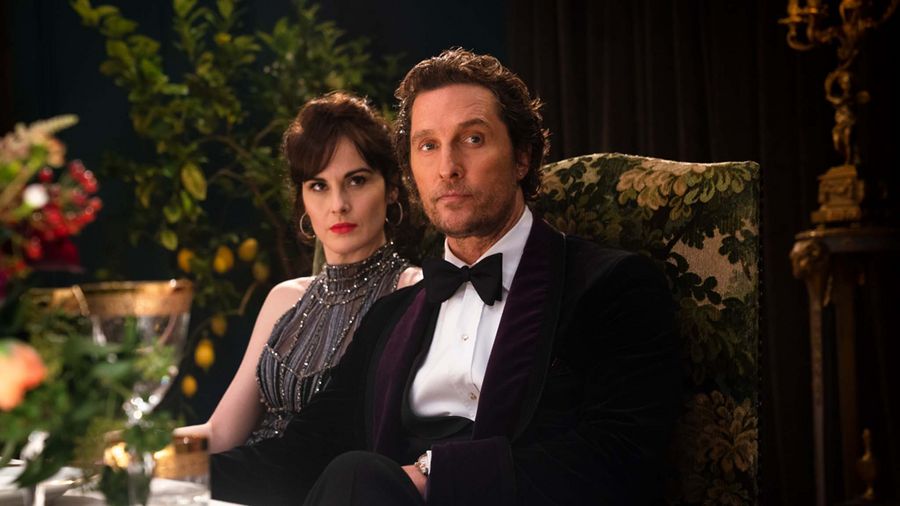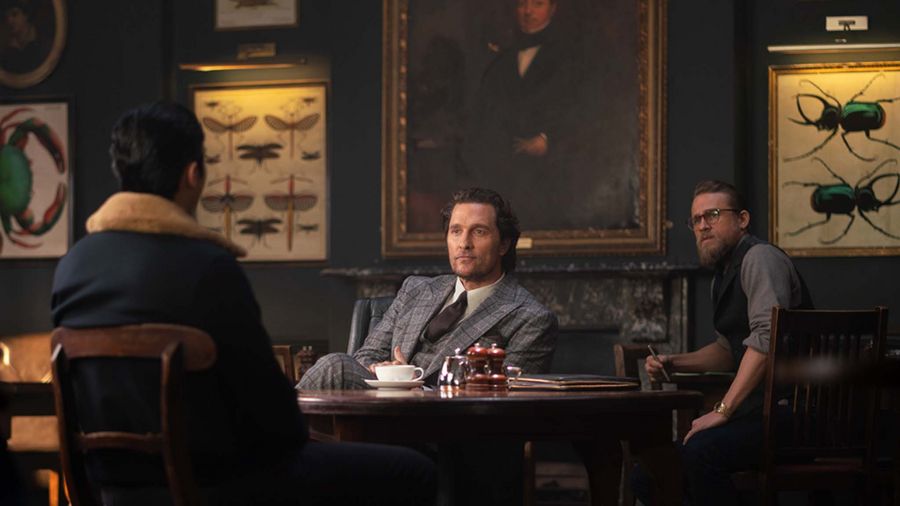 Review: After the quick-stepping theatricality of a live-action Aladdin replete with Will Smith's motion-captured genie, Guy Ritchie returns to the crime-riddled streets of London and filmmaking home comforts. The dodgy geezers and expletive-laden double-dealing of Lock, Stock And Two Smoking Barrels, which saddled the writer-director as a one-trick pony more than 20 years ago, are enthusiastically rehashed and recycled in The Gentlemen. The budget of this slickly orchestrated caper is bigger than Ritchie's 1998 calling card, including a leading role for Oscar winner Matthew McConaughey, but the macho posturing, snappy dialogue and stylistic quirks are disappointingly familiar including a point-of-view shot from inside a car boot. The film opens with McConaughey's dapper protagonist striding into a pub and politely demanding "a pint and a pickled egg," which cajoles the barman to pour a beer from a pump shamelessly adorned with the logo of the Gritchie Brewing Company. Blood starts flowing before the vinegar-saturated bar snack has been consumed and a motley crew of misguided characters have started a lively game of dialogue pass the parcel, tossing profanities back and forth as nouns, verbs and adverbs because swearing is big, clever and achingly cool. Ritchie uses a simple framing device. He feeds us morsels of his predictable story in fragmented flashbacks, as told by an odious private detective named Fletcher (Hugh Grant), who wants a hefty £20 million pay-off for incriminating photographs and documentation of Mickey Pearson (McConaughey). The American ex-pat has built a lucrative marijuana empire in the capital aided by right-hand man Raymond (Charlie Hunnam). Mickey is poised to sell the business to slippery American counterpart, Matthew Berger (Jeremy Strong), and share the spoils with his straight-shooting wife, Rosalind (Michelle Dockery). Unfortunately, trigger-happy rival Dry Eye (Henry Golding) intends to scupper the deal, lighting a fuse on a bloodthirsty turf war that will make lip-smacking headlines for sleazy tabloid Daily Print edited by Big Dave (Eddie Marsan). Adding fuel to the fire, rap-loving protegees of a local boxing coach (Colin Farrell) unwittingly steal from one of Mickey's farms and record their hare-brained antics on their YouTube channel. The Gentlemen swaggers and growls in ways we have come to expect from Ritchie. Kinks in a predictable plot are clearly telegraphed through self-consciously quickfire dialogue. Some of the cast are poorly served by the script but McConaughey's natural charisma elevates his self-anointed "king of the jungle" and Grant enlivens scenes with impeccable comic timing. Only one potty-mouthed outburst lands a decent laugh – a pithy aside gifted to Downton Abbey star Dockery, who reverts to her native Essex accent to play a ballsy spouse, whose words are almost as sharp as her designer heels. Tellingly, she has to rely on a man to get her out of a potentially lethal jam. Time's Up, The Gentlemen, please.
Find The Gentlemen in the cinemas
Comedy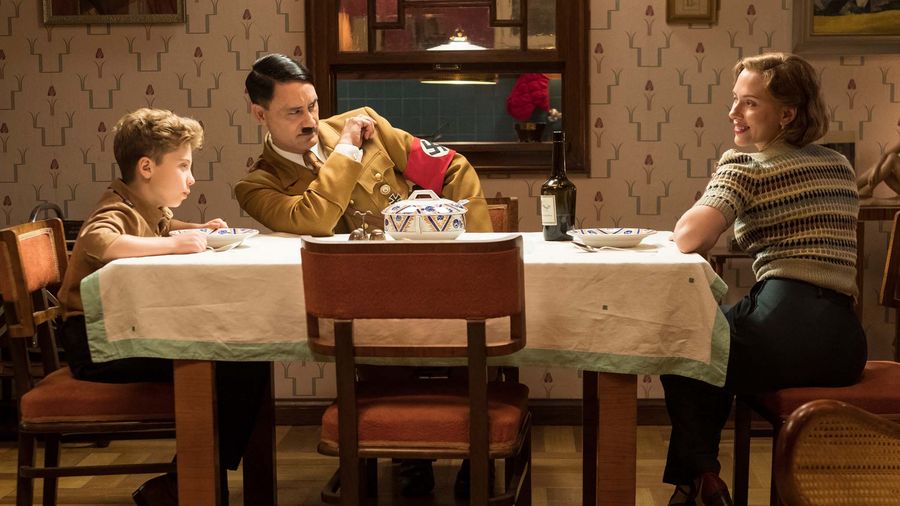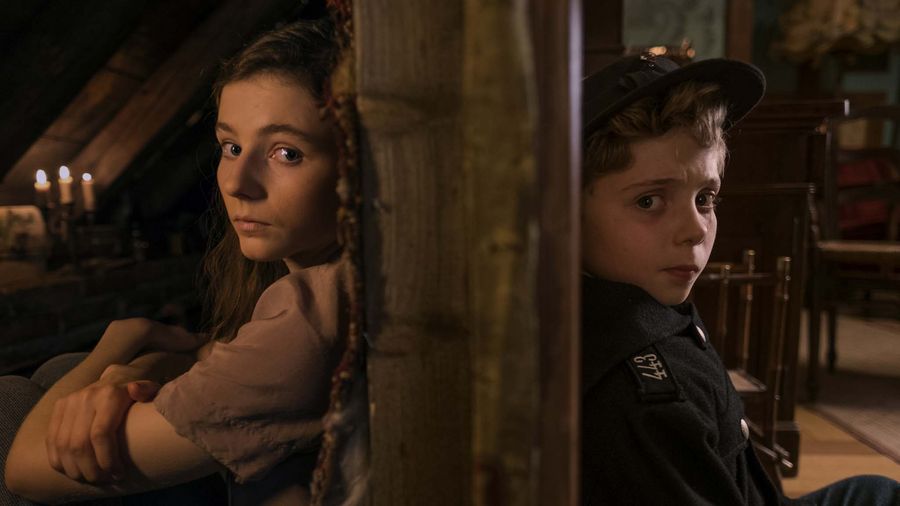 Review: Adapted from Christine Leunen's novel Caging Skies, Jojo Rabbit is a daring comedy drama, which boldly recounts one episode of suffering and redemption during the Second World War through the eyes of a 10-year-old boy, who claims the Fuhrer as an imaginary friend. New Zealand writer, director and star Taika Waititi confidently walks a tightrope between heartbreak and hilarity, employing his quirky brand of humour to witness the rise of fascism and its devastating consequences. Jojo Rabbit will undoubtedly divide audiences as it turns the pages of one of the darkest chapters of 20th-century history. The central concept is deeply objectionable and Waititi's pointedly outlandish portrayal of Hitler as a bile-spewing buffoon – as imagined by a boy who has never met the leader in person – has the power to offend. A stellar lead performance from young London-born actor Roman Griffin Davis illuminates every frame of this challenging and morally complex journey of self-discovery. He beautifully captures the naivete of an impressionable tyke, who has hungrily devoured every syllable of Nazi propaganda and regurgitates it in the hope that unerring loyalty might be rewarded with early promotion to Hitler's Special Guard. By the film's closing frames, his childhood innocence lies in tatters. The diminutive hero is Johannes Betzler (Davis), who lives in Germany with his mother (Scarlett Johansson). The youngster is an enthusiastic member of the Hitler Youth and undergoes training with best friend Yorki (Archie Yates) at a camp run by Captain Klenzendorf (Sam Rockwell), his second-in-command Finkel (Alfie Allen) and Fraulein Rahm (Rebel Wilson). The captain orders Johannes to kill a helpless wild animal as part of his learning but the boy refuses and is cruelly dubbed "Jojo Rabbit" by fellow recruits. Jojo turns to his imaginary comrade, Adolf Hitler (Waititi), to overcome this setback. Returning home, the boy talks excitedly about a German victory over the Allies. "No more politics," pleads Frau Betzler. "The dinner table is neutral ground, it's Switzerland." Soon after, Jojo discovers a Jewish girl called Elsa Korr (Thomasin McKenzie) hiding in a crawl space adjoining the bedroom of his late sister. The boy intends to notify authorities but Elsa points out that Jojo's mother would be executed for harbouring a Jew so the boy is compelled to hold his tongue. Jojo Rabbit is a deeply affecting coming-of-age story, which navigates some tricky and delicate changes in pacing and tone, including an unexpected sucker punch to convey one character's fate. I wholeheartedly bought into the satire and sentimentality of Waititi's vision, which affirms the enduring strength of love to light a path through the darkness. "I think you'll find metal is the strongest thing in the world," cheerfully counters Jojo. He will learn.
Find Jojo Rabbit in the cinemas