The 'Picasso of Latin America' has returned to London for his first time in 25 years, opening a special collection of neo-figurative paintings that will be displayed at Thomas Gibson Fine Art for a month only.
"They're fat figures, to use the favourite words," painter and sculptor Fernando Botero says of the plump big-top performers lining the gallery wall. The Circus features nearly 20 watercolours and oil paintings that collectively prove why Botero has become one of the world's most successful artists. He gained acclaim after a first-place nod at the Salon de Artistas Colombianos in 1959, and since then has held more than 50 exhibitions worldwide and boosted his selling prices into the multi-millions.
Botero spends about one month a year in his native Colombia, yet describes himself as the most Colombian artist living because of his insulation from international trends. Not that his country has always treated him well. The documentary The Big Fat Art of Fernando Botero, screened last night at the Prince Charles Cinema, followed the artist on a less than favourable trip home, when armed guards had to accompany him after several kidnapping attempts and his son had sunk into a political-corruption scandal.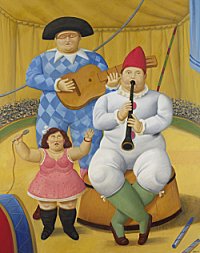 Medellin served as home to both Botero and the infamous drug lord Pablo Escobar, who became the subject of one of the artist's controversial works. Similarly kettle stirring was a series on Abu Ghraib, which began as an idea Botero had on a plane and ballooned into more than 85 paintings and 100 drawings.
After painting out the "poison" he felt over Abu Ghraib, and capturing the more optimistic faces of tightrope walkers and unicyclists in his Circus collection, Botero is ready to go back to basics. "After all this, I always return to the simplest things," he says. "Still lifes."
Fernando Botero: The Circus exhibits at Thomas Gibson Fine Art, 31 Bruton Street, until 9 April.
– Jill Hilbrenner